Live game-streaming platform reaches the third highest peak of most-watched videos, showing Congresswoman Alexandria Ocasio-Cortez playing Among Us. Her appeal to the gamers to join her online made way for a new kind of campaigning ahead of the 3rd November US elections.
Analysts have different views about her on this latest action. Some said this got viral for her being a gamer, while others criticized her for electioneering. Some also felt this act was genuine. However, she is being applauded for approaching the Gen Z voters, who are usually difficult to reach. This little stunt might have given a hard time to her contemporaries who are trying to get the attention of the voters on Twitch.
Alexandria Ocasio-Cortez And Among Us: A Political Gimmick?
Murder mystery game Among Us has recently gained massive popularity among gamers. This mainly includes repairing a damaged spaceship. Among the workers is an imposter trying to kill other characters and sabotage the work. The players either have to track the imposter or hide from the others in case they are the imposter.
Alexandria Ocasio-Cortez started the stream by asking for votes for the Democratic Party. Her colleague congresswoman Ilhan Omar joined the game as well.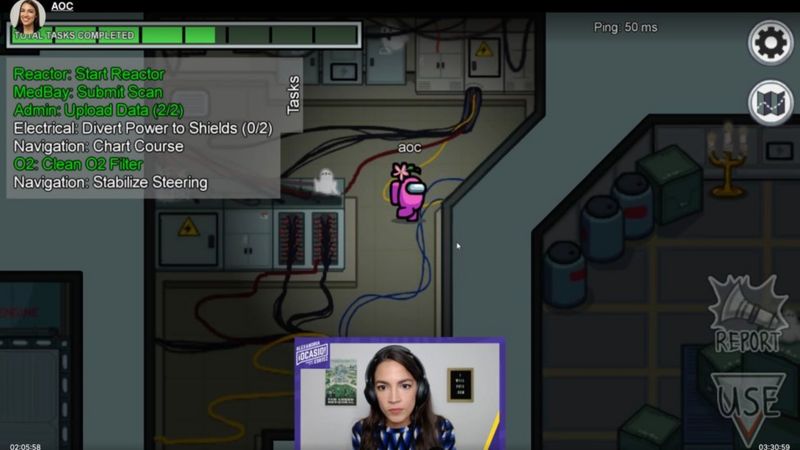 As an individual gamer, AOC received the third-highest number of views, including 439,000 viewers over three and half-hours. Singer Drake holds the highest records of 600,000 views for playing Fortnite.
Surpassing her contemporaries on the platform, AOC gained 550,000 followers. To name a few, President Trump has 143,000, and Bernie Sanders has 160,000 followers. This Democratic Senator uses Twitch for political speeches or broadcasts, but never gaming.
Public Reaction
An immensely positive response was recorded from the viewers, who appreciated AOC for reaching out to the young generation voters. Even though she was criticized for electioneering, Rothermere American Institute fellow Mitchell Robertson called her a strong advocate of the Democratic message. Robertson admitted that AOC is creating a useful bridge with the American youth through a space like Twitch. On the other hand, Nicky Danino called this a common, but clever and well planned political move.
Professor of Politics from the University of Liverpool, Jon Tonge, said it's a good way to engage young minds, but not necessarily politics. He added that it's a little early to gauge the impact of this stunt on the voters as this is targeted to only a certain age group. Political counterparts may refrain from engaging in this, and it's not directly addressing a significant cause, Tonge believes.
However, it's noted that the Democrats are taking up gaming as a campaigning strategy for this election. Joe Biden (presidential nominee) is also using his virtual island on Animal Crossing: New Horizons for campaigning.